Wood Joinery with the PantoRouter
October 23, 2021 @ 10:00 am

-

1:00 pm
Learn to make strong and beautiful joints in wood easily and accurately using the PantoRouter.
The PantoRouter is an extremely accurate machine that can produce beautiful joints in wood with a minimum of setup time. Learn more at PantoRouter.com.
This class will focus on the following:
Mortise and Tenon joints
Dovetails
Box Joints
Through Tenons
Dowel Joints
Josh will guide you through measuring and marking your workpieces, setting up the machine, and provide instructions on how to get the best results for your projects.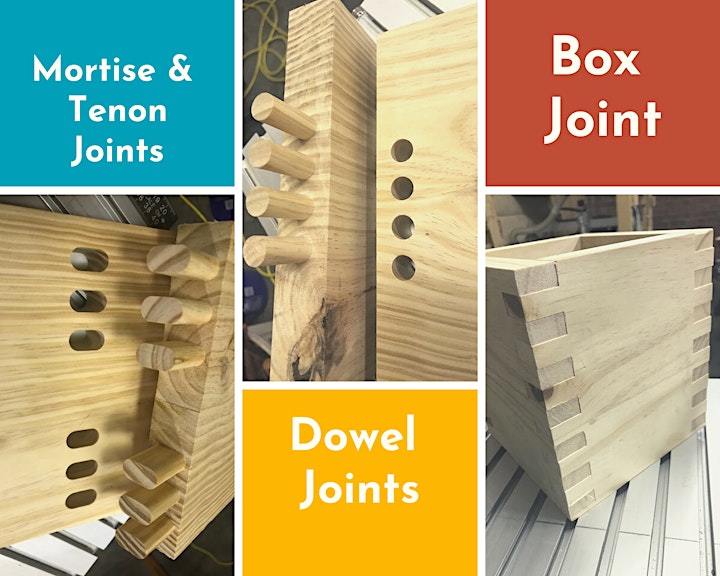 Instructor Josh Greene is the head of our woodshop committee at MakerSpace Charlotte. Learn more about his work: greenewooddesign.com
Class is open to ages 16 and up, though minors must be accompanied by a responsible adult at all times. The adult must purchase an additional ticket to attend the class.
Guests are asked to be on time for events. If the safety briefing is missed, the guest will not be able to join the class and no refunds will be given.
Any jewelry on the hands and wrist must be removed and that no loose clothing is worn. Closed-toed shoes are required. Safety goggles will be provided. If you wear prescription glasses, you may want to bring your own eye protection. Hearing protection is optional, bring your own if desired.
MakerSpace Charlotte dues-paying members can check their email for a monthly Access Code to unlock member discounts on Eventbrite during checkout.
Unvaccinated guests are asked to wear a mask over their nose and mouth while indoors at MakerSpace Charlotte as directed by the CDC. Hand sanitizer and bathrooms are available for hand washing during the event.
MakerSpace Charlotte is located in the brick side door, up the ramp. Ring bell for entry.
Want more? View our complete schedule over at MakerSpaceCharlotte.org. See what other classes are available, or schedule a time to tour the space!
Wood Joinery with the PantoRouter